Though Chris and I tend to be the outward face of Bedrock one cannot get a real sense of how Bedrock wines are made without a humble bow to the small group who bust their behinds for us almost every single day. Though possessing different personalities and strengths we can say that a golden thread of thoughtfulness, intrepidness and kindness runs through the group as a whole. -MTP
Cody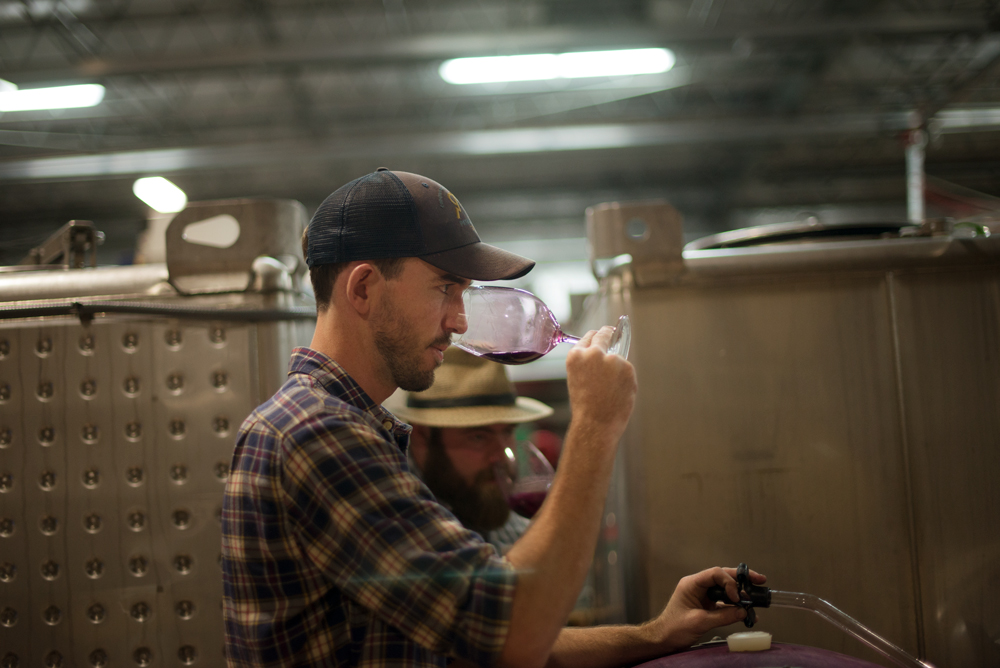 Associate Winemaker Cody Rasmussen was born in Arizona and raised in Iowa, places that respectively instilled in him his lifelong loves of collecting rocks and reading (not much else to do in Iowa). He double-majored in political science and economics at Williams College in Massachusetts, where he met his first intellectual nemesis, Chemistry 201—a cruel irony a few years later when he had to self-teach about redox reactions and polar-covalent bonds in the cellar.
A month abroad in Stellenbosch and a semester eating all the pizza in Rome introduced Cody to the wine world, and back at Williams for Senior year, Cody spent all his food money on wine from the local wine shop while opting for the collegial sustenance of ramen, Mac 'n' Cheese and frozen pizza. The Wine Atlas and The Oxford Companion to Wine guided his extra-curricular studies; Reading Between the Wines changed the course of his career ambitions.
He sent a cold-call email to every winery in the Russian River, Dry Creek and Alexander valleys and landed his first harvest job in the Russian River Valley in 2011. He then worked harvests at Patz & Hall in Sonoma and Craggy Range Winery in Hawke's Bay, New Zealand, before becoming Bedrock Wine Co's third employee in summer 2013. Cody, his wife Emily and their son Caleb live in Sonoma with their golden retrievers Kinley and Maya. When not in the winery, Cody is most frequently found cooking Serious Eats recipes, devouring the pages of a viticulture book or backpacking in the High Sierras.
Read More
Katie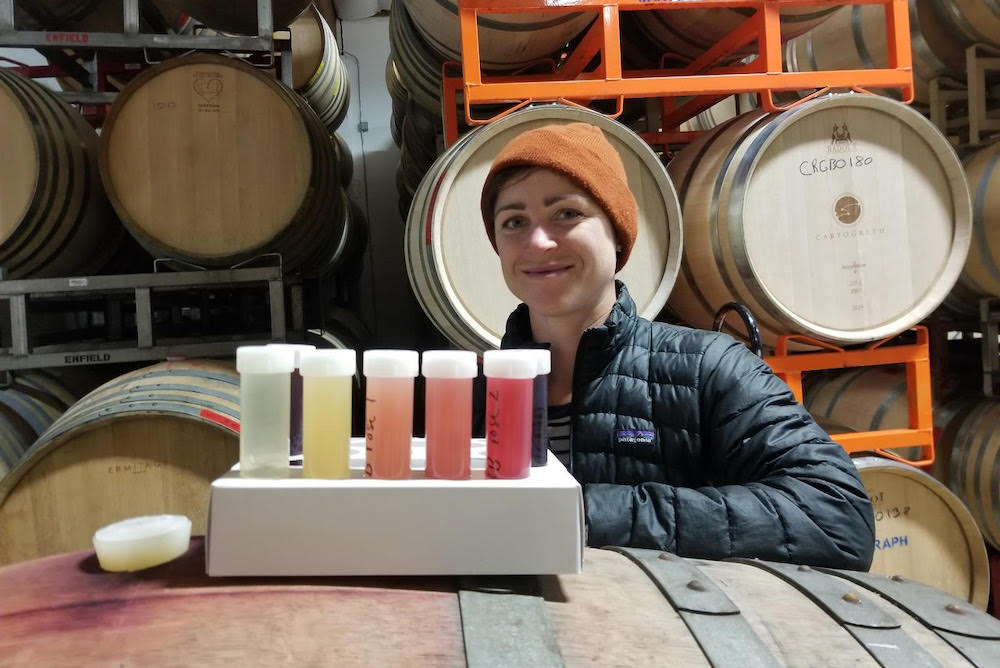 Growing up in a Virginia wine-growing family, Assistant Winemaker Katie Rouse was always interested in the culture of winemaking, as it brought together "an incredible ragtag group of craftspeople, musicians, and life-enthusiasts" around her. But despite spending fall afternoons after soccer practice washing picking bins in the rain, somehow the romance of the industry didn't appeal to her – until a college class called "Terroir" attracted her Geology major self to the creative and scientific possibilities of winemaking.
Now with a Master of Science degree in Viticulture & Enology from UC Davis, Katie comes to Bedrock after winemaking stints around the world - most recently as cellarmaster at Crocker & Starr in Napa but also in Burgundy and with our friends Andrea and Chris Mullineux in the Swartland of South Africa.
Her favorite type of rock (yes, of course she has a favorite type of rock) is unakite – a beautiful type of altered granite that is pink feldspar orthoclase with pistachio-colored epidote. "I have a few stones of it in my car to bring me good juju," she says.
When wine isn't in her glass, she's most likely drinking a cold gin and tonic or a tall glass of pilsner – and when not at the winery, Katie is most likely found rolling fresh pasta, foraging roadside plants for a seasonal wreath, reading another page of "On Food and Cooking" by Harold McGee or playing a feisty game of cribbage.
Oh, and as if we weren't already impressed enough by her badassery, Katie has also run two marathons, was a glacier guide in Alaska, and has her own side-hustle wine brand called Birdhorse, focusing on natural and diverse wines that she makes with her partner Corinne.
Read More
Jake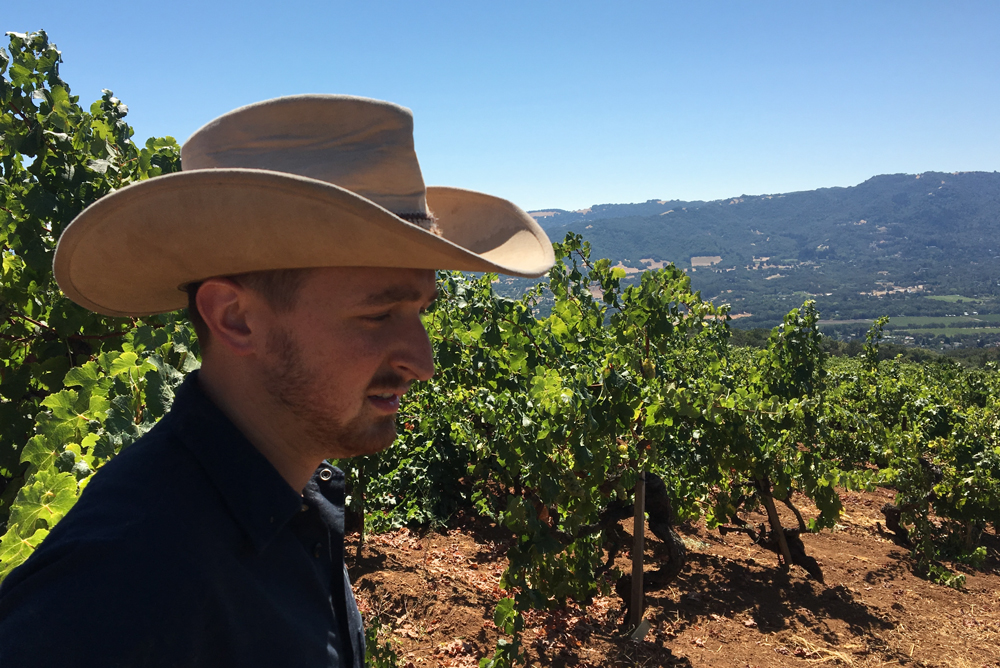 Viticulturist Jake Neustadt grew up in the East Bay and came of age backpacking in the Sierras and annoying his neighbors with an overly loud garage band. His higher education at UC Davis began with a focus on journalism and international relations but, upon realizing the bleak realities of those career paths, quickly gravitated toward agriculture and winemaking.
Jake's wine industry career has orbited around old vines (Rock Wall Wine Company, Ridge) with a sidestep into West Sonoma County Pinot Noir (Freeman) and a harvest learning the agony of bird nets in Central Otago, New Zealand (Misha's Vineyard). It was at Ridge, under the tutelage of David Gates and Will Thomas, that Jake learned the idiosyncrasies of farming old vines with sustainable practices like biological control and site-specific cover cropping along with using modern viticultural instrumentation and data analysis in order to improve old-school organic and dry farming practices.
Among his many talents, Jake can show you the difference between a beneficial six spotted thrip and an injurious pacific spider mite egg on the back of a grape leaf. When not at the winery, he's probably drinking wine at his home in Sonoma, backpacking/hiking, or playing/writing/singing music.
Read More
Sarah
Sarah Prior joined our team in 2021, but her wine experience started much earlier. As the daughter of a wine distributor, Sarah was fascinated by how wine created challenging conversations around the dinner table and took her family to all parts of the world. Wine has taken her all around the world as well, from her hometown of Bielefeld, Germany, on to Berlin, then Weimar to study Media and Marketing at Bauhaus University, then to Bordeaux for her winemaking program – with stints in England, New Zealand, and Sweden along the way.
Sarah's first wine industry role was in the Rheinhessen at Alexander Gysler at the age of 14. After 4 weeks of pruning and bottling work, Alexander shared a bottle of 2003 Lichspiel Huxelrebe Beerenauslese as a study in balance. Before joining us at Bedrock, Sarah worked for two years at Harlan, BOND and Promontory, where her mentors Julia Van der Vink, Mary Maher, and Ely McElroy taught her to dream big and approach farming from both a technical and spiritual angle.
This is precisely the philosophy that makes Sarah such a great part of the Bedrock Vit team. Sarah works closely alongside Jake to manage our vineyards, specifically working with Bedrock. In her spare time, she's most likely found spending time with friends (and her dog Elsa, who is often spotted by Sarah's side scampering through the vineyards) along with cooking and sailing.
Read More
Jackie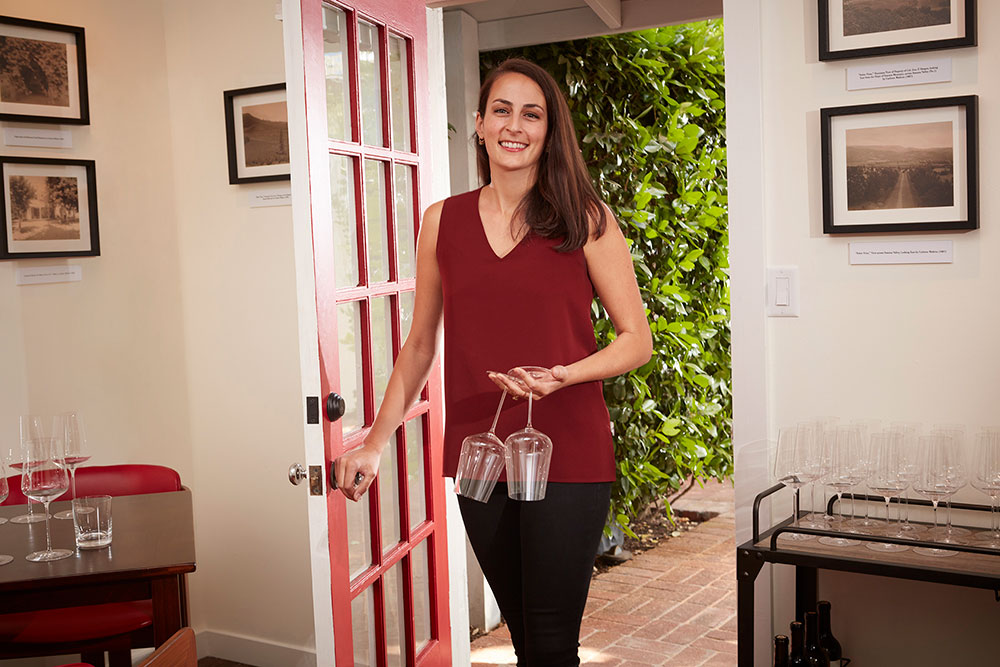 Jackie has lived in the San Francisco Bay Area most of her life, save for two years in New York City and a post-college internship in Paris (her French is flawless, for those interested in hearing all about Bedrock wines en française). A UC Berkeley graduate with degrees in French and Political Economy of Industrialized Societies, Jackie first got into wine during her travels throughout Europe and through work with garagiste winemakers in San Francisco during her work in urban planning. Her wine love skyrocketed, though, when she met her future husband Gustavo, the Winemaker at Scribe in Sonoma, and became immersed in the wine community.
In 2016, Jackie and Gustavo moved to Napa, and after studying wine through the WSET program and Napa Valley Community College, started working in marketing for a Napa winery. She jumped over to the Sonoma side in 2018, when she joined us at Bedrock. She helps the team with all things sales, hospitality and logistics related — you may also recognize her as "Sound Engineer Jackie" on the Bedrock Wine Conversations podcast. On the weekends, you can most likely find her hiking, watching soccer, concert-hopping around the Bay, and working on her Spanish.
Read More
Grant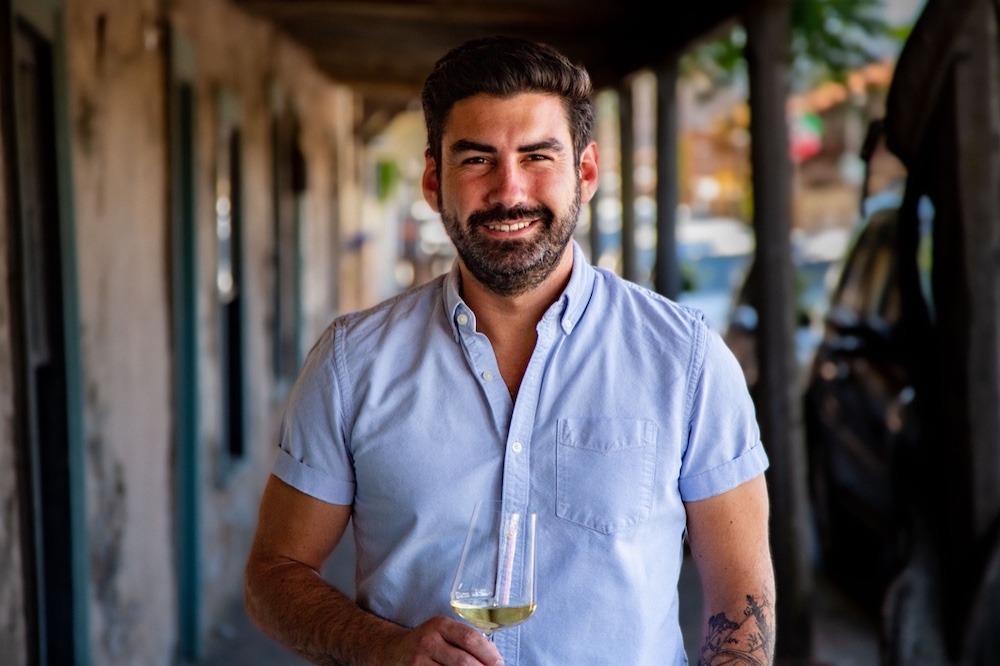 Our Tasting Room Manager Grant Wood is a man of many talents, from his past life as a San Francisco DJ (which has significantly benefitted our Hooker House playlist) to pumpovers at the winery on days the tasting room is closed. Grant grew up in a 1950s ranch house in the Napa countryside and was introduced to food and wine during his high school days working in catering. While working at Cardinale, a bottle of 2000 Howell Mountain Cabernet Franc changed the way he looked at wine, and his wine career took off.
Grant is now a Certified Sommelier and holder of a WSET Diploma in Wine & Spirits. Impressive wine creds aside, Grant is happiest sharing wines with those around him. "Whether you're a guest, a loved one, or a friend," he says, "the person in front of me means the world to me, and I want everyone to feel just a bit more special when they leave than they did before our time together."
When not diving into wine study, Grant spends his time cooking wine-inspired meals or drinking meal-inspired wines, and he starts every day with a morning run with his Formosan Mountain Dog, Luna (who happens to have a major crush on Jackie's dog Nico).
Read More
Seph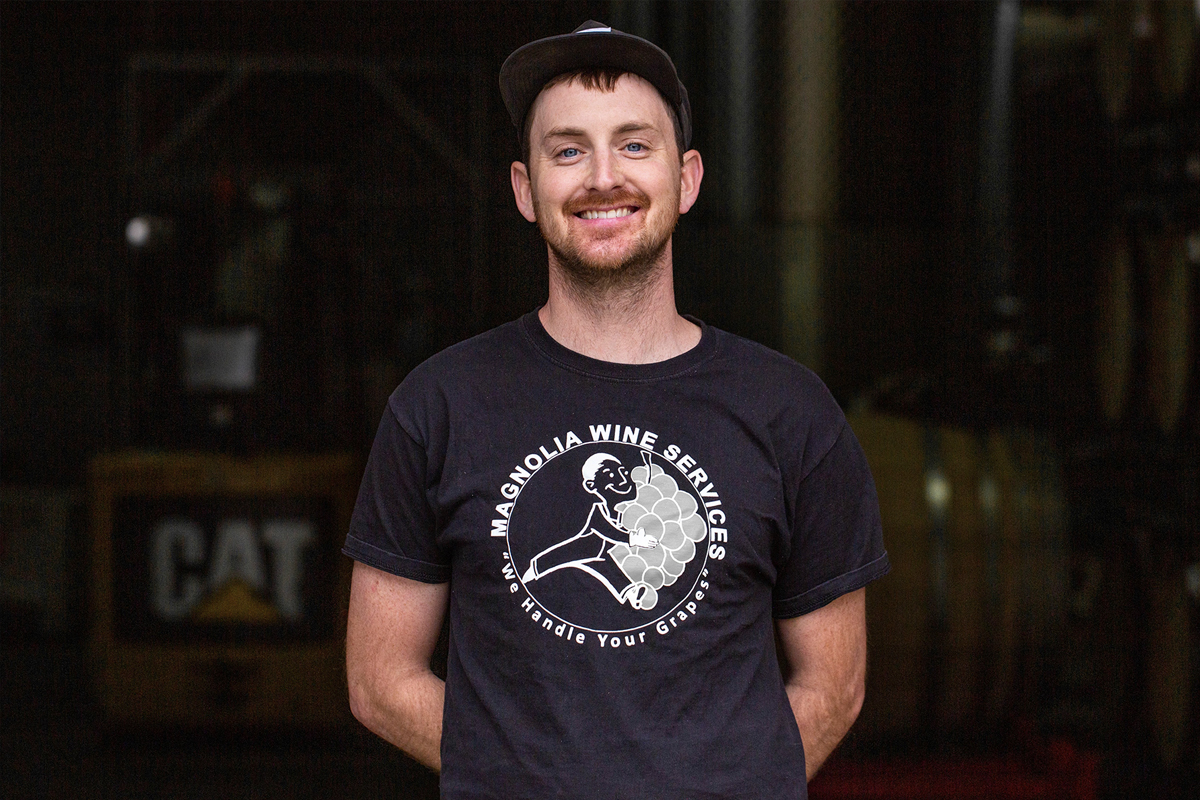 Seph grew up in Milwaukee, Wisconsin—as he says, home to America's football team and the happiest cows on earth. A population of European immigrants with healthy appetites for dairy made cheese an acceptable entrée for most meals. Growing up, his parents drank wine on occasion, but it wasn't until Seph moved to California in 2015 that he got to experience friends opening bottles and talking about what they were drinking.
After working as a seasonal mountain guide, Seph started working on the wine side, and after a few seasons on the viticulture end and abroad in the cellar, his passion for learning the ins and outs of the industry brought him to Bedrock as a harvest intern in 2018. We couldn't quit him, and he's been part of the Bedrock crew full-time ever since. When not working at the winery in his role of cellar guy and uncle to the winery dogs, Seph can be found hiking, climbing and swimming circles around the rest of us. (Can you climb in circles? He probably can). Seph grew up swimming competitively and has been known to go from hiking and climbing for two weeks in Tasmania to jumping straight into the Australia Day Open water swim – and winning first place. His other hobbies include skiing, spearfishing and in general, any outdoor tomfoolery. His drink of choice: Syrah or a classic Old Fashioned.
Read More
Aiste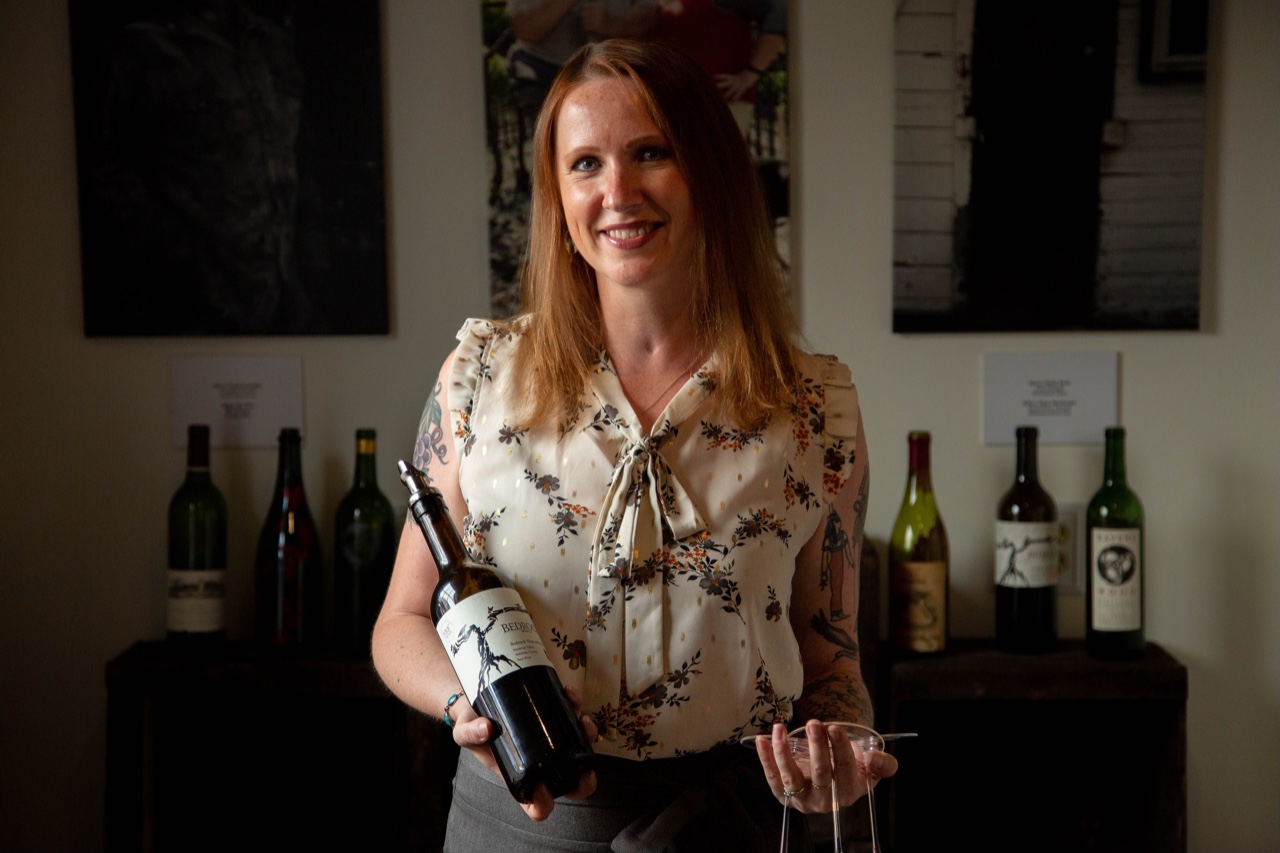 Aiste joins the Bedrock family with one of the most fascinating backstories we've seen yet. Born and raised in Lithuania, Aiste developed her passion for wine over time, culminating when she got a job at a small winery in Truckee, CA. She spent eight years there before moving to Napa Valley. It wasn't necessarily one specific bottle that led to her career in wine, "but observing the winemaking process, literally turning water into wine to me seemed like a pretty special craft and motivated to dive deeper," she says.
Aiste's 10 years' experience in the wine industry included a harvest internship in 2017 at Skinner Vineyards before she moved back into hospitality, meanwhile becoming a Certified Sommelier and passing her WSET Level 3 with distinction. She is the embodiment of poise and hospitality and has a particular knack for translating wine expertise into casual conversation.
When not at Hooker House, Aiste can be found translating books from English to Lithuanian (a hobby she's done for 14 years) or hosting supper clubs with her friends, each month focusing on a different wine theme.
Read More
Caritas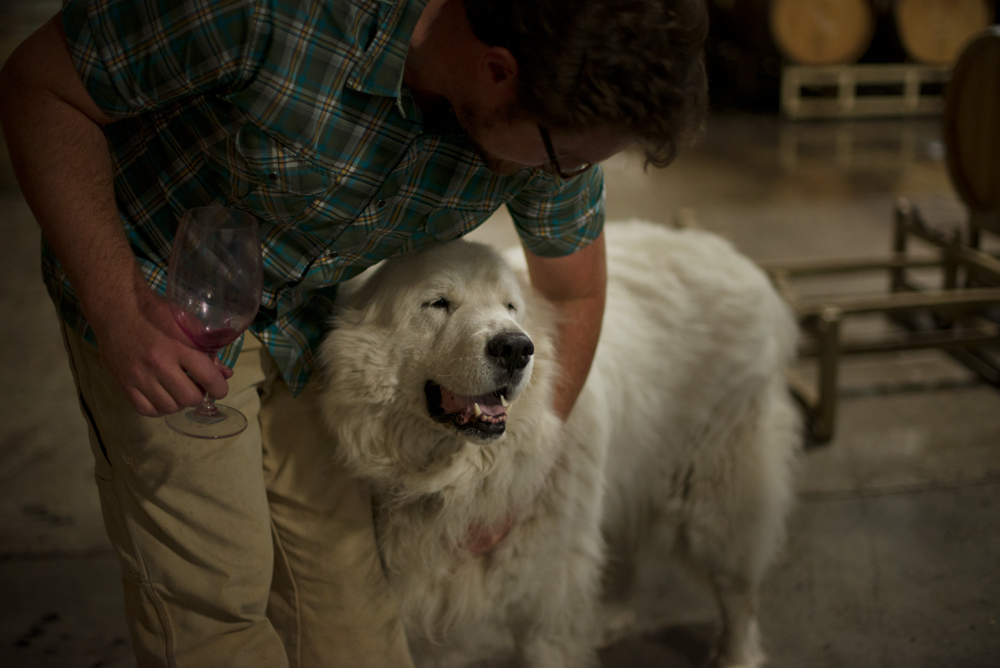 Morgan's dog Caritas, a 16th century Counter-Reformationist Catholic masked as a majestic Great Pyrenees, lived a glorious 13 years before passing in June of 2019. Her days were spent engaging in her favorite activities: showcasing her divine right of dominance over "zee horrid Huguenots!" (aka Kinley and Maya), silently judging the Bedrock team for their innumerable shortcomings, and graciously forgiving said shortcomings when peace offerings of the culinary sort were extended. She was the absolute best, and the namesake for Cuvée Karatas.
Kinley and Maya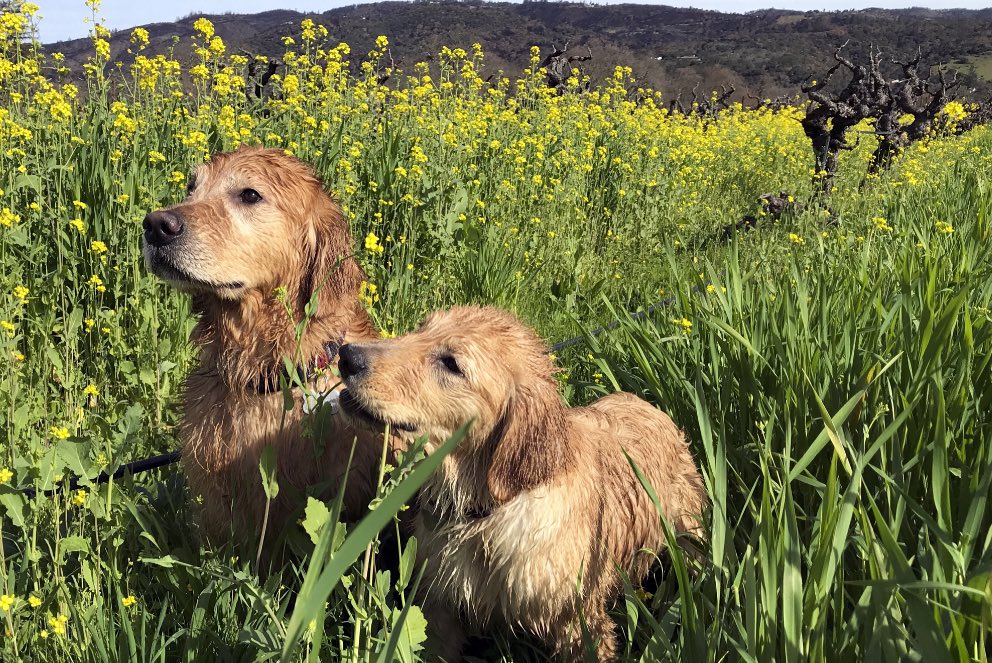 Cody's dogs Kinley and Maya are Golden Retrievers whose primary goal in life, besides napping, is to greet every person that walks into the winery. Kinley's favorite activity is napping under Cody's desk; Maya's is following the winery crew around in search of spilled wine. Their favorite foods are anything stolen from Bedrock harvest interns, whole sticks of butter and/or chunks of Parmigiano. Kinley's favorite beverage is beer, especially after a long harvest day, and Maya's is mid-fermentation Bedrock Heritage Wine.
Busy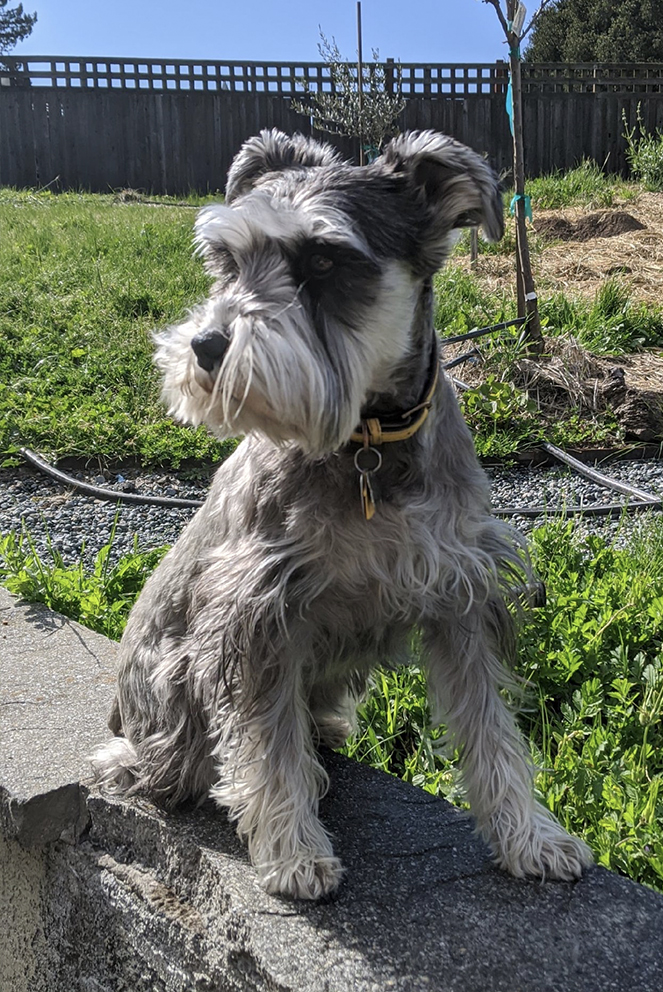 Busy is, as her name suggests, a busy little bee: a free spirit and accomplished vocalist living in the body of a Miniature Schnauzer. When not gallivanting alongside Jake throughout the head-train vines of Contra Costa, Busy can most likely be found assisting Jake's wife Ellen make hand-sewn clothing or practicing her arpeggios in the Neustadt family yard.